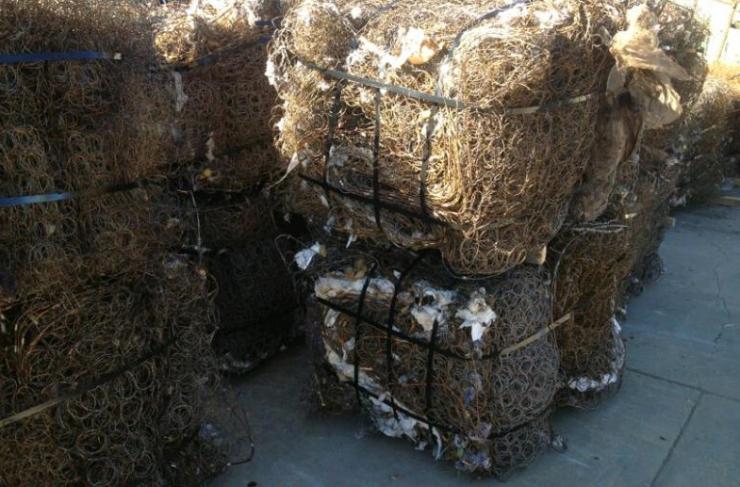 Soft Landing mattress recycling gains SSROC contract
Multi award-winning Soft Landing is delighted to have been awarded the regions mattress recycling contract by South Sydney Regional Organisation of Councils (SSROC).
Soft Landing is Resource Recovery Australia's mattress recycling program and it's making an impact on multiple levels. It started as a local scheme in a small Wollongong workshop. It's now an industrial operation having recycled over 740,000 mattresses, employing hundreds of staff and servicing NSW, ACT, VIC & WA. Like all good inventions, it was born from sudden necessity. Around 8% of all waste to landfill in NSW comes from textiles. So when local councils stopped collecting mattresses for landfill, an outbreak of illegally dumped bedding ensued.
Salvaging metal, foam and timber from mattresses diverts thousands of tonnes of waste from landfill annually. Every 10 tonne of materials is equivalent to:
Taking four cars off the road permanently.
Providing enough electricity to annually power 14.5 households.
Saving enough water to fill 3.5 average backyard pools.
Rather than end up in landfill, Soft Landing manages to salvage over 90% of materials being reused or recycled. Soft Landing deconstructs each mattress and on-sells the components. The steel springs are recycled into building products like roofing materials, the foam into carpet underlay, and the timber is mulched. 
Soft Landing also focuses on providing employment and training opportunities for people experiencing disadvantage. Around 80 per cent of their staff come from either long-term unemployed, aboriginal employment, with mental health barriers, or through the corrective services. 
With parent body Community Resources registered with Indigenous business platform Supply Nation, following a 30-year track record working alongside Aboriginal communities in regional NSW, Soft Landing has re-focused its social impact to become an Employer of Choice for Aboriginal people in Sydney.
Soft Landing is on track to recycling over 40,000 mattresses for Sydney residents this year. 
You can book a collection today by calling 1800 763 852, or by visiting the Soft Landing website.
Sources
---